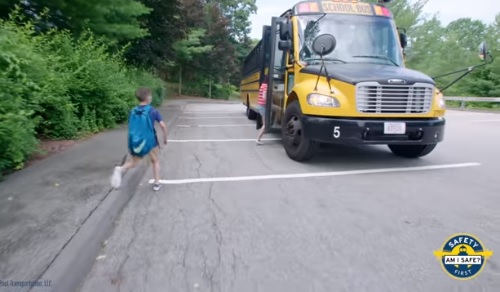 [ad_1]
The distance school reopens for Kindergarten to Grade 12 students * at Northborough and Southborough schools this week and Kindergarten to 5 begins in-person hybrid attendance * next week. So, unsurprisingly, there is a wave of communications coming from the NSBORO district and schools these days. Here are some highlights.
Published bus lines
Northborough, Southborough and Algonquin bus routes have been posted. The NSBORO district hopes to avoid last year's fiascos while facing further security complications. A message to parents ensures that drivers test the routes before the start of the school year.
You can find the 2020-2021 routes here. As usual, the only times displayed are the departure of the scheduled routes. A post with FAQs can be read here. He notes:
After reviewing the routes, if you are unsure of your student's bus or bus stop, you can contact the main school office afterwards. Wednesday, September 16, 2020. We're still tweaking the cohort lists and keeping an eye out for capacity limitations. This is still a moving target, as some families change their plans to reopen.
The plan to reopen transport with a related security video for families can be read here.
Families had to register for the bus. If you haven't and want it now, the form is here. That said, the message informed that changes to bus lines are temporarily frozen:
All routes will be frozen until Friday October 19, 2020. No changes will be made to the routes, except to respond to a safety issue. All requested changes will be reviewed and implemented on Monday, October 19, 2020. The purpose of the route freeze is to give drivers time to learn their routes.
If you have signed up, but no longer require transportation services, please email Transportation Coordinator Jean Pinto directly to [email protected]
Plus, stay tuned for news on district plans to pilot a "Here Comes The Bus" app. For the "proof of concept", one route from each of the three districts will be selected to participate.
Trottier and Algonquin course schedules
The families were waiting for details of the children's class schedules for middle and high school. This information started to come out at the end of last week. On Friday, Algonquin students were invited to log into a new "Power School" portal to view their schedules. Anyone with scheduling problems was invited to complete a form on the Guidance service website. Meanwhile, Trottier manager Gary Hreschuk has asked families to check their mailboxes for specific times:
The Power School portal was open to some families today and some students had access to the schedules. I want to share that some schedules are subject to change as a result of such a complex school year.

In a typical school year, we provide a hard copy of the schedule on the first day of school. Due to this unique environment, we will be sending your child's schedule by regular mail today. You should have a copy of the schedule on Tuesday.
[Note: My family got ours on the weekend, so don't wait until Tuesday to look.]
More webinars
Emails invited parents and / or the community to participate in other webinars this week to prepare for the school year. These include:
ARHS and Trottier this afternoon
The email from Trottier Hreschuk's manager also shared links to past webinars and this afternoon's: Canvas bootcamp for parents, Monday September 14 from 3:30 p.m. to 4:30 p.m.
Algonquin also holds a Information webinar for parents this afternoon. This one, which shares the latest details on the reopening of overlaps, from 3:00 p.m. to 4:00 p.m. It is also capped at 500 participants. Luckily, director Sean Bevan promises they'll follow up with a link to the webinar video for those who can't attend.
District Medical Advisory Team Forum tonight
Yesterday, Superintendent Gregory Martineau invited parents to join a webinar with the district medical consultation team this evening from 6:00 p.m. to 7:30 p.m.:
Our district has benefited greatly from the expertise and advice of the MAT. The team has volunteered many hours to keep our students, faculty and staff safe as we prepare to reopen our schools. I cannot thank the medical advisory team enough for their support and expertise. [The] The forum is an opportunity for families to ask District MAT questions and learn more about the Covid-19 Virus.

Please submit your questions in advance: Medical Advisory Forum Question Form
Save, Click here.
School committee meetings
This week, the committees that oversee Southborough's K-12 Public Schools are meeting again. The meetings will take place on the first day of the school year, Wednesday September 16:
Mixed school committees – 5.15 p.m. (agenda) – Click here to register for the webinar. Highlights include: audience sharing, an NSPAC presentation; Updates on the Music Study Group, Professional Development, Strategic Plan and Equity Coalition; plus a draft of the school calendar for next year
Regional school committee – 7:00 p.m. (agenda) – Click here to register for the webinar. Highlights include: an update on fall sports and MIAA guidelines, a discussion of a proposed distribution facility adjacent to the school, and updates on the solar panel installation project and school start time
For more information on plans to reopen schools, remember that they have a dedicated website. You can find that here.
* Preschoolers start school in person this Wednesday. Not all older students will transition to hybrid attendance. Some have opted instead for the Stand Alone Remote program.
[ad_2]