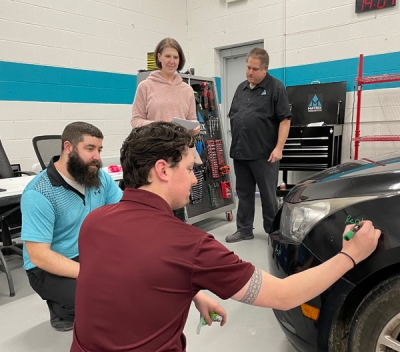 Many say one of the most alarming issues in the collision industry right now and for the foreseeable future is the desperate need for technicians.
The industry is losing technicians to retirement and competition for tradespeople is at an all-time high. While the need to recruit thousands of technicians into the industry isn't going away anytime soon, the need for a disruptive retention model is even greater, according to Dustin PeugeotCEO of the Matrix Trade Institute (MTI) located in Beachwood, Ohio.
"We need thousands and thousands of them over the next 10 years, but the current model shows that more than two-thirds of post-secondary graduates leave the industry in less than a year. year," Peugeot said. "If the industry can't find better ways to retain and develop technicians, then worrying about recruiting them is wasted energy."
Peugeot said retention is where MTI makes the difference by offering hands-on four-day, 30-hour, 80% Efficiency Bootcamps to employers so they can equip employees with specific skills and efficiencies to accelerate their growth.
"MTI's Efficiency Bootcamps are a core part of our program and what makes us truly unique from any other school," Peugeot said. "This business-to-business offer has been designed to help stores upskill and retain employees in an efficient and cost-effective way."
Employers provide their technicians with MTI's self-assessment, which allows workers to feel valued and play a role in their own career development.
"When the technician's goals and desire for growth meet the shop's need to increase capacity and retain valuable employees, then MTI is the connection point," he said. "Matrix bootcamps provide an experience that stores can't plus a return on investment (ROI) that pays dividends in the short and long term."
Over the years, Peugeot has seen more and more stores recognize that retention must take priority over recruitment to ensure the next generation stays in the industry and with the companies that hire them.
"This industry doesn't just have a recruiting problem; he has…