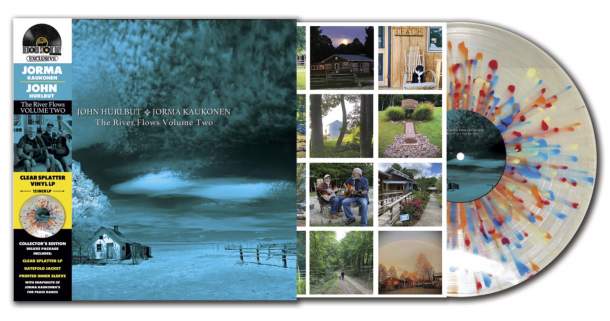 Presented on vinyl during Record Store Day last July, Culture Factory will be released John hurlbut and Jorma Kaukonen: The River Sinks Volume Two (CFU-01200) in all formats on September 24, 2021. In parallel they release a box The river flows Vol. 1 & 2 / The Complete Sessions, a CD box with 8 live tracks recorded on a special evening at Concerts de quarantaine as a bonus disc.
Recorded last summer with Volume One, this album continues on the same path. "Guitar maestro Kaukonen shares headlining with singer / guitarist John Hurlbut in a memorable six-string storytelling session," said Sterophile and No depression revealed "Kaukonen and Hurlbut see music as conversation… What we hear in this acoustic wonder is an intimate tête-à -tête celebrating 40 years of friendship."
John Hurlbut and Jorma have been friends since 1984. After working together in the late '80s and early' 90s, including shows where John opened for Jorma or Hot Tuna, their friendship solidified largely on the basis of musical interests and common talents. Being close friends and neighbors, John and Jorma have done, and do, a lot of spontaneous picking together. Jorma enjoys providing main flourishes by supporting John's voice and rhythm guitar. Thus, while "staying in place" at the Fur Peace Ranch, Jorma and John were able to capture their friendship on vinyl!
"It's a celebration of great music, great acoustic guitar work and a close friendship …" – Gold mine
"The real genius rings where the finger meets the string." – Grateful web
"Kaukonen provides a distinctive accompaniment, showing his versatility … his main work is a revelation." – The living blues
"Hurlbut's performance resonates with emotional sincerity; his vocals seem to come from a guy who's seen a few things, good and bad." – The fuse of the arts
"The River Flows is aptly titled because… these songs overwhelm us, transporting us with their clarifying beauty and genius. " – FolkAlley
For the road...
Jorma will be playing with Jack Casady (Hot Tuna), friends and playing solo this fall. Buy your tickets now, as venues offer additional space between tables, often reducing their capacity. Mask yourself and come have fun!
September 11 Fur Peace Station, Jorma / Larry Campbell and Teresa Williams
September 18 Pawpaw Festival, Lake Snowden, Albany, OH Jorma Kaukonen with special guest John Hurlbut
September 25 Ryman Auditorium, Nashville, TN Jorma / Tommy Emmanuel
September 26 Tommy Emmanuel Guitar Camp, The Virgin Hotel, Nashville, TN Jorma Kaukonen
September 28 The City Winery, Atlanta, GA Jorma Kaukonen
September 29 Diana Wortham Theater, Asheville, North Carolina Jorma Kaukonen
01 October The Baby Grand, Wilmington, DE Jorma Kaukonen
02-03 Oct New Hope Winery, New Hope, PA Jorma Kaukonen
Oct 05 Landmark On Main, Port Washington, NY Jorma Kaukonen
Oct 06 The Beacon Theater, New York City, NY Jorma Kaukonen opens for Tedeschi Trucks Band
October 07 Studios Levon Helm, Woodstock, NY Jorma Kaukonen
November 07 The Mill Event Center, Lancaster, OH Acoustic Hot Tuna
November 13 Fur Peace Station, Pomeroy, OH, Electric Hot Tuna
November 24 The Birchmere, Alexandria, VA Electric Hot Tuna also Steve Kimock and his friends
Electric Hot Tuna & David Grisman Trio
November 26 The Paramount, Huntington, NY
November 27 Mahaiwe Theater, Great Barrington, MA
November 28 The Wilbur, Boston, MA
November 30 Flynn Theater, Burlington, Vermont
01 Dec. The Egg Albany, NY
03 Dec. Penn's Peak, Jim Thorpe, Pennsylvania
Dec 04 The Capitol Theater, Port Chester, NY
Dec 05 Count Basie Theater, Red Bank, NJDec 07 Carnegie of Homestead MH, Munhall, PA, Electric Hot Tuna also Steve Kimock and friends
Dec 08 Kent Stage, Kent, OH Electric Hot Tuna also Steve Kimock and his friends
09 Dec. Ludlow Garage, Cincinnati, OH Electric Hot Tuna also Steve Kimock and his friends
December 28 – 31 Freight & Salvage, Berkeley, CA, Acoustic Hot Tuna
The Fur Peace Ranch offers a full season of online virtual workshops
Vanessa Kaukonen and the Fur Peace Ranch team have put together an incredible range of virtual workshops! Enjoy learning from the comfort of your home.
January 15 – 16, 2022
Jorma Kaukonen, Beginner Acoustic Blues
February 11 – 13, 2022
Jack Casady, electric bass
February 25 – 27, 2022
Rory Block, Acoustic Fingerstyle: Songs from Robert Johnson & Son House
Cindy Cashdollar Dobro
March 11 – 13, 2022
Steve Kimock, Electric Guitar
March 25 to 27, 2022
Jorma Kaukonen, Fingerstyle Acoustic Guitar
Larry Campbell, Fingerstyle Acoustic Guitar
April 8 – 10, 2022
Pat Donohue, Acoustic Guitar
May 13 to 15, 2022
Woody Mann, Fingerstyle Acoustic Guitar
GE Smith, Electric Guitar
June 3 – 5, 2022 Entrance ramp weekend
Jorma Kaukonen
Tom feldmann
David Wolff
August 12 – 14, 2022
Jorma Kaukonen, Fingerstyle Acoustic Guitar
Happy Traum, Fingerstyle Acoustic Guitar
August 26 to 28, 2022
Bill Kirchen, Electric Guitar
Larry Campbell, Fingerstyle Acoustic Guitar
September 10 – 12, 2022
Jorma Kaukonen, Fingerstyle Acoustic Guitar
Jack Casady, Electric bass guitar