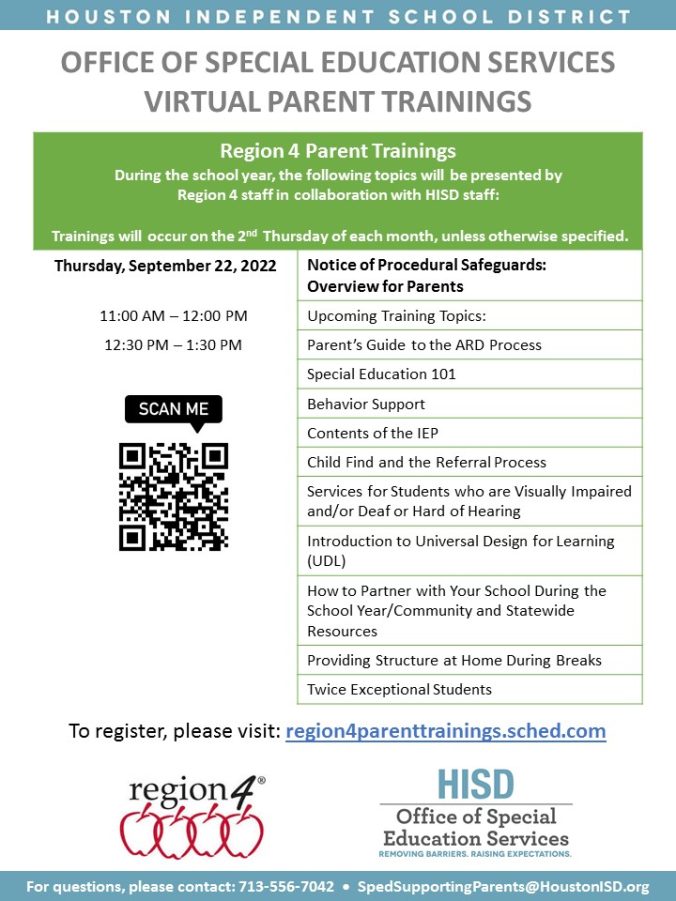 The Office of Special Education Services will be sponsoring virtual parent trainings in conjunction with Region 4 to facilitate parent engagement. The first virtual training is scheduled for September 22, 2022.
During the school year, the following topics will be presented on the second Thursday of each month, unless otherwise specified:
Notice of Procedural Safeguards: Overview for Parents
A Parent's Guide to the ARD Process
Special Education 101
Behavioral support
Content of the IEP
Child search and referral process
Services for visually impaired and/or deaf or hard of hearing students
Introduction to Universal Design for Learning (UDL)
How to Partner with Your Child During the School Year/Community and Statewide Resources
Provide structure at home during breaks
Twice Outstanding Students
There will be sign language interpreters throughout the presentation and there will be Spanish interpretation for the Q&A portion. Spanish-speaking parents will have access to live Spanish subtitles during the trainings.
Please log in and register for the training using the following link: https://region4parenttrainings.sched.com/
If you have any questions, please contact the Office of Special Education Services Parent Liaisons by calling (713)-556-7042 or emailing [email protected]