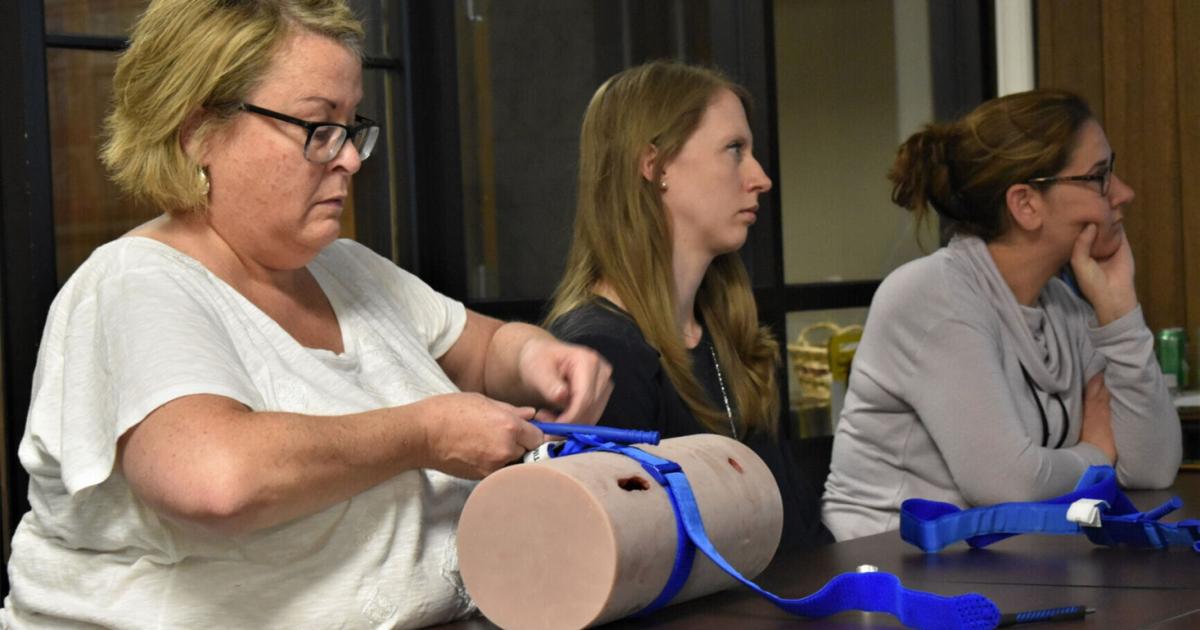 WATERTOWN – Local instructors have been certified to teach the Stop the Bleed rescue technique and are now looking for training sites and community members interested in being trained. There are at least 25 free training sessions available for booking.
Watertown International Airport was the site of the Fort Drum Regional Health Planning Organization's first community training on Tuesday.
"We have a highly trained team of aviation professionals at the airport who do an excellent job every day," airport manager Grant W. Sussey said in a statement. "Stop the Bleed training adds one more tool to their toolkits to ensure the best possible results on that 'really bad day' that hopefully never comes."
Each community site that trains 20 or more people will be equipped with a Stop the Bleed kit to perform the technique in a bleeding emergency. This is similar to how automated external defibrillators, AEDs, are made available for cardiac emergencies.
The Stop the Bleed initiative in the North Country was made possible by a $4,100 LEAD Impact grant from the Northern New York Community Foundation and its LEAD Council, which is made up of young professionals who live and work in the tri-county area and are interested in improving the quality of life in the area.
Anyone wishing to coordinate or register for a training site in their community can do so in two ways: submit a request online at bit.ly/3bleJ6U or contact the FDRHPO North Country EMS Program Agency at 315-755 -2020 ext. 52 or email [email protected]
"We have very capable and dedicated instructors ready to go, and we are all delighted to offer the Stop the Bleed trainings across the north of the country, teaching ordinary citizens the basic actions to manage serious bleeding as a result of day-to-day emergencies, mass casualty events or natural disasters. said Ann Smith, program director for FDRHPO's North Country EMS program agency. "The Stop the Bleed Technique allows individuals to provide immediate assistance to stop or slow external bleeding before professional responders arrive – a single action that could save many lives."