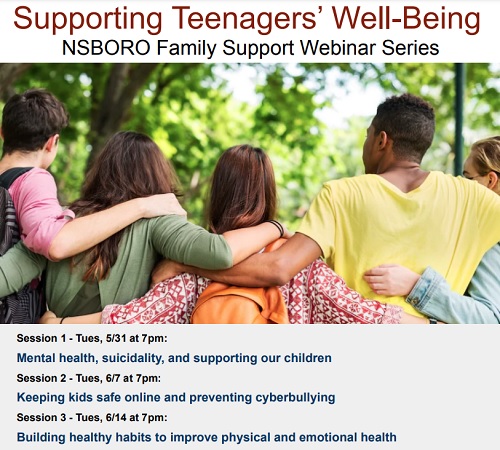 Southborough-Northborough Public Schools has announced a 'Family Support Webinar Series' focusing on 'Teen Wellbeing Support'.
NSBORO's Free Zoom Workshops will be held Tuesday evenings at 7:00 p.m., May 31 through June 14. Each has a specific goal: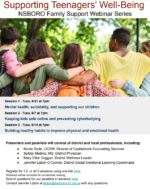 Mental health, suicidality and support for our children – May 31st
Keeping Children Safe Online and Preventing Cyberbullying – June 7
Developing healthy habits to improve physical and emotional health – June 14
If you miss the live sessions, the recordings will be available for viewing.
Presenters and panelists will include:
Kerrie Toole, LICSW, Castlebrook Consulting Services Manager
Safdar Medina, MD, District Physician
Mary Ellen Duggan, District Wellness Manager
Jennifer Lipton-O'Connor, District Social and Emotional Learning Coordinator
To register for all (or all), click here. Parents are also encouraged to submit their questions to the panelists in advance here.
If you have any questions about the workshops, contact Jennifer Lipton at [email protected]