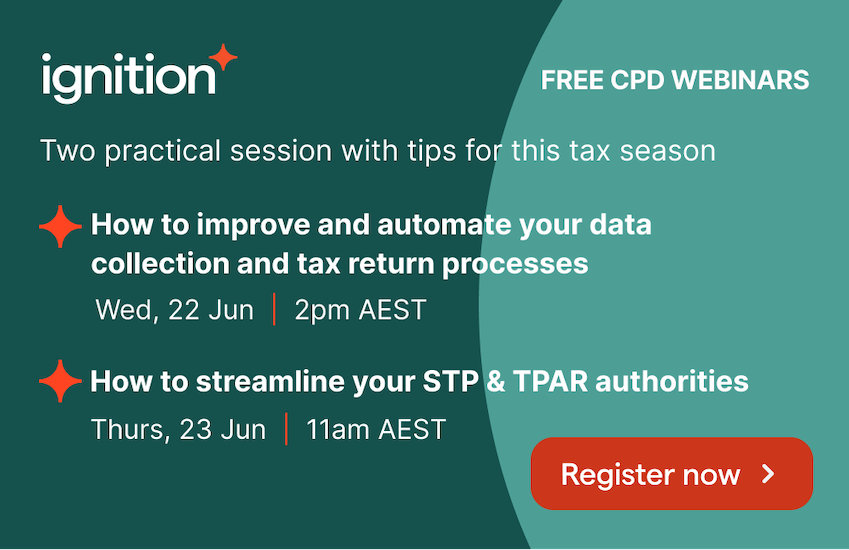 Sign up for these two hands-on sessions to learn from our subject matter experts and guests for practical tips this tax season.
Session 1: How to automate your tax filing and client tax data collection process
Wed 22 June | 2pm AEST
Do you want to improve and automate your data collection and tax reporting processes?
Join Brendan Allen of Ignition and James Rose of Content Snare as they share modeled and automated workflow solutions that will make your tax filings easier this year.
Session 2: How to streamline your STP and TPAR authorities
Thursday June 23 | 11am AEST
Join Rebecca Mihalic—director at BusinessDEPOT—and Michelle Timperley—account executive at Ignition—as they discuss your obligations as a business and as a tax agent or BAS, and how you can use technology to streamline the process.
We hope to see you there!
>> Sign up for these free CPD webinars
---
About ignition
Ignition is the world's first customer engagement and commerce platform for professional services firms to streamline how they engage customers and get paid. More than 5,000 accounting and professional services firms worldwide use Ignition to win new business with impressive digital propositions, engage clients with a clear scope of work, and get paid on time by automating payment collection. Ignition also integrates with leading business apps like Gusto, QuickBooks, Xero, and Zapier to automate time-consuming tasks. Founded in 2013 by a progressive accounting entrepreneur to find a better way to do business, our goal is to help clients grow, be more efficient and create win-win client relationships. To date, we have helped facilitate over 2 million customer engagements and over US$2 billion in customer payments. Practice Ignition has teams in Australia, Canada, New Zealand, Philippines, South Africa, USA and UK, with over 150 employees worldwide.
To find out more visit ignitionapp.com